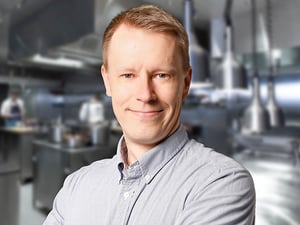 Valtteri Klippi is the Product Development Manager at Dieta kettles. The engineering graduate dived into the world of intelligent professional kettles in 2016 and has had time to get to grips with the devices, which hide a surprising amount of technology under their simple exterior.
Through technology-enabled solutions, he helps ensure that every customer gets a kettle that pleases and meets their needs.
An engineer's journey to Dieta kettles
Valtteri is responsible for product development projects at Dietatec. He makes sure that Dieta kettles meet the requirements of directives and standards, which ensure the product's safety — it is pressure equipment, after all. Valtteri is also responsible for setting and maintaining the schedule, not forgetting Dieta's quality standards.
Valtteri's journey towards Dieta kettles started in Kotka, a maritime city, where he began his engineering studies in 2006. After graduation, he worked on boats and oil spill response systems until he started his postgraduate studies at university. Dieta hired a future graduate engineer in 2016.
When he started with Dieta kettles, the engineer was familiar with mechanical design, but he had to start from scratch when it came to the kitchen equipment, let alone smart professional kitchen kettles. The seemingly simple exterior of the kettle hides a lot of things, the number of which initially surprised the new product development manager. Learning everything always takes time for new members of the Dieta team.
Problem-solving as motivation
Today, with all their features and possibilities, Dieta kettles are as familiar to Valtteri as his own pockets.
The work is most often done together with the sales staff, technical support, and maintenance. The sales staff provides Valtteri with the customer's wishes and needs, who then looks at possible implementation and scheduling. Finally, he initiates the project and ensures that it proceeds on schedule until completion.
The product development manager's job is project management in the big picture, and different projects make for varied days. In a small dedicated team, like with Dieta kettles, it is also characteristic that everyone gets to do a little bit of everything. In addition to project management, Valtteri is also involved in a bit of planning.
Dieta's kettles have a proven foundation on which functionality and features are designed according to the customer's wishes. This customization opportunity for customers gives Valtteri's work the right kind of challenge, as he is passionate about finding solutions and satisfying customers.
"The core of the job consists of driving projects forward and the challenges are often related to solving and figuring out new technological solutions. The customer always benefits from product development, and in my work, I strive to ensure that customers can trust us to deliver the best quality equipment that perfectly meets their needs."
At Dieta, thoughts are constantly on our distributors and end customers. In Valtteri's work, it is reflected in good project management and it is important to him that the customer gets what they ask for within the agreed timeframe. Positive feedback is always good because then you can be absolutely sure that everything went as it should.
Developing technology for the benefit of the customer
For Valtteri, technology in smart kitchen appliances means ease of use and efficiency for the user, who is ultimately the one who prepares and serves the food. The technology helps to make work more efficient, for example with programmable recipes that ensure uniformity and easy and efficient preparation of different sizes.
HACCP reports, generated automatically during food preparation, ensure food safety and reduce paper waste by allowing reports to be read directly from the touch screen of the kettle, without the need to print them out separately.
It is this kind of efficiency-enhancing and development-generating technology solutions that Valtteri is working to solve and explore.
The human being behind the intelligent kettle
The push of technology into professional kitchens is a forced change. The kitchen professionals of the future will be those for whom touchscreens, for example, are such a normal part of everyday life that finding them in the kitchen is a pleasant surprise and ultimately an assumption.
But without people, Dieta's kettles would not be made: at Dieta kettles team, people develop and design the kettles, assemble, test, and pack. It is a raw, manual process, aided by machines, but also guided by people.
"Without technology, Dieta's kettles wouldn't be what they are, but without people, they wouldn't be at all."
Leisure time with an active family
After the working day, the family gathers at home; Valtteri, his wife, and two school-age children. But they don't spend their free time at home, as the family is very active with hobbies.
"Our free time is largely spent on our children's hobbies. In winter we ski and in summer we do road cycling. The latest addition to cycling is cross-country skiing."
When it's time to be completely on his own, Valtteri enjoys music: playing the drums with his bandmates takes his mind elsewhere, away from intelligent professional kitchen kettles. Towards a human-produced sound.
---
Read next:
Read the blog > Kettle Intelligence: Increase productivity with smart kitchen equipment
Read the blog > Mixer Kettle Production Capacity
Read the blog > Dieta Genier mixer kettles – cost control and efficiency
Read the blog > Dieta Genier — designed with care, right down to the details