Energy saving in commercial kitchens is an important concern. Considering energy costs have always been a large portion of the operating costs of a business, and now energy prices are rising dramatically. After the recent global crisis, even the availability of energy has become a concern, now businesses are doing all they can to reduce the energy usage of their commercial kitchen.
A modern mixer kettle itself is an unbeatable solution to reduce the energy consumption of cooking in the commercial kitchen. The Genier kettle has an energy-efficient value above 95%**, which is achieved by the kettle's clever design combined with a mixer and food temperature control, ensuring the right amount of energy is used.
Daily savings of up to 40% on electricity and 35% on water*
Energy-efficient food temperature control with mixing saves on energy consumption, as heating happens only when needed and heat is distributed evenly and automatically. This is a major difference from traditional boiling pans without automated control of product temperature. In one year, the average difference will be a saving of 9,500 kWh per kettle. In addition, using the automatic washing program will achieve water and detergent savings of up to 80% – for every wash. This will make a saving of 88,000 liters per kettle in one year.
* Compared to a traditional boiling pan without cooking programs, food temperature-based heating control, or an integrated agitator.
** EFCEM: Energy Efficiency Standard for boiling pans or equivalent
Energy saving operations
There are some relatively simple steps that can be implemented for energy-saving and reducing water consumption with mixer kettles:
Select the exact target food temperature at the start (no need to select a higher temperature). The kettle heats up automatically and efficiently to the desired food temperature and adjusts the heating to keep the temperature constant.
Use automatic water measuring to add the desired amount of water to the kettle.
Create recipes with multi-stage programming. Automatic cooking processes reduce idle time and energy consumption between program stages.
Save your cooking programs in internal memory. This reduces variability in daily process and ensures even food quality.
Use the right mixing tool for the recipe. Correctly selected mixing tools can save a lot of working time.
Weigh all ingredients according to the recipe. Kettles that include the weighing function can weigh ingredients as part of the cooking program.
Keep the lid closed during cooking.
Use the lid's ingredients opening to add ingredients. Remember to use the ingredient's opening cover.
Empty the kettle with the tilt function.
Clean the kettle with the washing tool and programs. This reduces water and detergent consumption.
The removable lid can be washed separately.
The mixing tool parts are dishwasher-safe.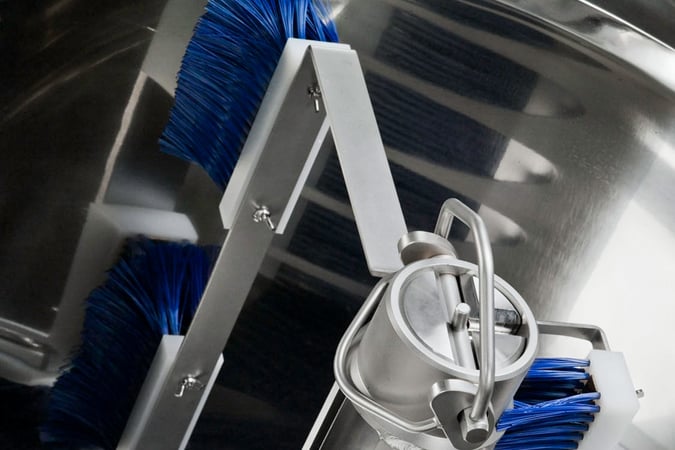 Dieta Washing tool